assalamualaikum & slmt sejahtera.... entry td lupe plaks nk bg salam kenzz... xkonsisten btul leww aq nieh... ohoohohoh.... berbalek kpd tajuk entry aq kalinie biasalah soalan cepukmas dpd
Ili
kesygan aq.... mmg tersedak jgklah nk mnjwbnyerr... i dunno... she's asking me why everybody...
*meaning our others frens...
is in the relationship but why am i managed 2 stay single???
aq taw knape aq maseh single... ngkorang tgk jelah gambo nie..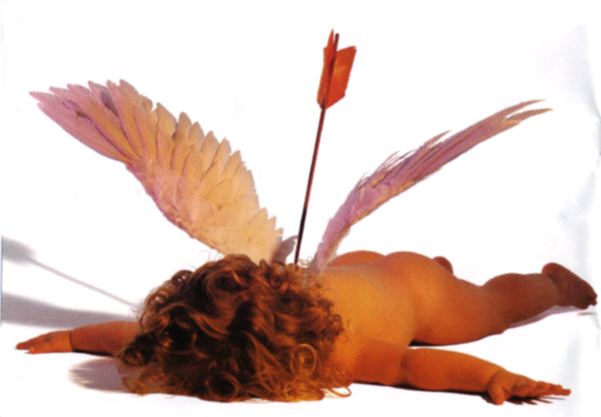 ~cupid aq mati kene panah sndirik... uwaaaaaaaa :(~
ohohoho... sarcastic am i??? superstitious 2 believe there is cupid exist 2 matched me 2 other's??? kalu islamic skit
khurafat
.... hikss...ntahlah... selepas 2@dua kali relationships failed, i tend 2 be more extra careful this time around....
*matilah bebdk nie t
nye kang saper plaks yg aq couple... xmo jwb... mwahahhahah
... but the funny things is, it do bothers me from time to time... yelah, ngko nk gak bermanja2 dgn org kesygan or ape2 jelah nk bwat berdua...
*eventho i'm strongly agree that u can do everything by urself alone without other's then....
tp bg aq i have 2 enjoyed myself first as much as i want it too... bcoz when ur in a relationship u tend 2 give ur so-called love undividedly...
*gaythooo, ala2 setia katenyerr...
ntahlah... to cut it short, if let say i would want 2 go into a relationship, the other part shud know what they want... for me, u shud
REALLY
know what u want or what 2
EXPECT
in ur own relationship... if that other person failed 2 do that, i'm so sorry 2 say that we're not compatible my dear..... bcoz
i know what i want in my relationship
....
in the end, when talking abt relationship everybody wants it to end up like the pic below....
~smart giler pic nieh....~
but not necessarily true...
happily ever after
????
yeah u can achieved dat but u must worked it out... relationship cannot be in a static mode... u shud adapt it 2 suit both person's dat involved in its... i would say a
win-win
situation....
*matilah ayat Prof Ali dok terngiang2 dlm kpala otak.... hoho
... tp bknnyer brmakna its da end of da world kalu ngko xder kapel pown... kekdahnyerr lg elok aq nk berbakti kat mak ayah doluu...
*tetibe jd anak yg baek plak, xboley2 kene jd gak ank yg durhaka... ahahahhahahah
....
p/s:
i dun mind if i'm not married 2 anyone... i would be fine with dat... marked my words carefully... bcoz its hard 2 maintained one good marriage...